4 great reasons to make Jeff Wawrzaszek's
Blue & Gold Banquet Show
your first choice for Guaranteed, audience-pleasing fun!
One of the biggest events in scouting each year is the annual Blue & Gold Banquet. Want to ensure your banquet's success? Consider these 4 important factors for great family entertainment...
All the ingredients of a Great Banquet Show...
As a full-time, professional magician who presents over 400 high-energy, spellbinding programs of laugh-packed magic, fun and audience participation each year, my Blue & Gold Banquet Show is an ideal choice for family audiences just like yours.
Your scouts will laugh out loud at the fun that takes place when various audience members get involved in the show. Some of the magic actually happens in their very own hands! They'll be amazed by the red pop trick, astounded by the "freeze dried" egg, and they'll talk about the piano playing mouse and the last two "classics with a twist" long after the show is over.
A Seasoned Professional...
Fifty years of experience, and over 15,000 delighted audiences at schools, libraries, Cub Scout Banquets and family events, means you'll be getting a time-tested, proven program that will hold your group's attention and leave them wanting more. Scouts love this show...and so will you! You'll join the ranks of hundreds of other Michigan and Ohio packs who have found this to be one of their best programs ever. Many have me on their short list of quality entertainers to bring back over and over again.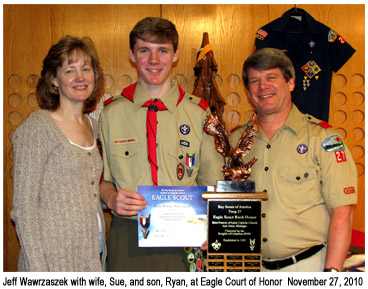 An Exceptional Value...
As a former Den Leader (5 years) and the father of an
Eagle Scout, I know what a great value Scouting has to offer,
so I'm offering Scouting a great value as well - in the form of reduced rates for all Cub Scout activities. While a great
price is certainly important, true value is really a combination of price, quality and experience. That's where I come in...I'm the "childrens and family entertainment specialist" that
delivers all three!



A Guaranteed Audience Pleaser or It's FREE!

I honestly believe that you won't find another Michigan magician who will deliver the quality and value that I offer when it comes to your overall cub scout entertainment experience. In fact, I back it up with a 100%, no "smoke and mirrors," satisfaction guarantee!
Here's my guarantee to you. At your Blue & Gold Event, your scouts will laugh, have fun, be amazed and have a truly great time or your show is FREE!

It's that simple. If at the end of my show, for any reason, you honestly feel that I haven't delivered everything that I've promised here, then you don't pay. In 50 years and more than 15,000 childrens' and family performances, not a single person has requested money back. That's experience you can count on!
Below is a sampling of comments I have received from hundreds of Cub Scout Packs just like yours. February and March dates always sell out. Review the feedback, and reserve your date today. I promise you a program that will ensure a successful Blue and Gold Banquet full of memories and fun that your scouts will remind you about for years to come!
Here's what Michigan Scout Leaders are saying
about Jeff Wawrzaszek's
Blue & Gold Banquet Show...
"Outstanding! Jeff's magic show was energetic and entertaining and greatly exceeded any expectations. The kids and parents alike were entertained from the very start. Many of the parents commented to me afterward that this was one of the best acts we had ever had at a Blue and Gold event."
Dave Richards, Blue and Gold Chairperson, Cub Scout Pack 1954
"Room was filled with 50+ Scouts and families. He got their attention! I've rarely seen them so engaged. Fun show...I heard lots of 'Wow...how did he do that?' during and after the show."
Cubmaster, Cub Scout Pack 101
"This was the second year in a row we were entertained by Jeff Wawrzaszek, and he was even better the second time around. Not only were the kids laughing, but so were the adults. What a wonderful magician! All of us loved the show."
Debbie Pickell, Cubmaster, Cub Scout Pack 623
"You were a hit! Grand Slam! Out of the park! Fantastic!"
Kurt Vosburgh, Cubmaster, Cub Scout Pack 123
"Mr. Wawrzaszek is a wonderful magician, delighting not only the boys but the adults alike. In fact, I think he is one of the best magicians I have ever seen. He performed some of the traditional magic tricks with a twist, and also performed other tricks that I have never seen before. He was also quite witty...which kept the adults on their toes...I would highly recommend him to any group wanting an outstanding magician."
Mary Hubbard, Den Leader, Cub Scout Pack 1126
"You kept 41 elementary school age boys engrossed in your performance for 45 minutes! Need I say more? The parents and older siblings also enjoyed the performance. I heard a lot of laughter and applause. Thank you."
Wendy Schulman, Committee Chairperson, Cub Scout Pack 362
"Excellent. Extremely entertaining for the cub scouts. Presented at just the right level of magic for both the cubs and the parents. Jeff does an amazing job. Prompt, courteous, a pleasure to have entertain."
Cliff Vaughn, Cubmaster, Cub Scout Pack 97, Whitehouse, OH
"Please pass along our appreciation to the very talented Mr. Jeff Wawrzaszek. His program was ideal for our family format and helped to make this Blue and Gold our most successful ever."
Annette L. Minard, Secretary, Cub Scout Pack 903
"You are a consummate professional! Everything about you and your business was well done - from your flyer to your wonderful performance. You truly understand that magic can levitate our spirits, and you did it with great skill and showmanship. Thanks again."
Ralph Rexroat, Committee Chairman, Cub Scout Pack 117
"Outstanding show! The length and comedy was perfect for our event. Great job! All the feedback was very positive. The kids really enjoyed your show."
Greg Schultz, Pack Committee Chairman, Cub Scout Pack 771
"We plan to invite Jeff back again! Very professional. He put on a quality show with MAGIC, not filler. Funny and family oriented! A+"
Cathy Randazzo, Committee Chair, Cub Scout Pack 63
"Jeff, An absolute great job. Incredible. All the kids and adults had a great time. Thank you."
Ken Rochon, Howell Cub Scout Pack 362
You'll get great results like this too, when you book
Jeff Wawrzaszek's Blue & Gold Magic Show
for your Michigan or Ohio Cub Scout Banquet!
Choice dates get snapped up by those who call first. Don't be disappointed. Call A2 Magic now, while it's fresh in your mind, and see just how affordable this show really is. Do something extraordinary. Treat your Scouts to this spellbinding program of magic and fun. Experience the laughter...enjoy the value! Pick up the phone, and reserve your date today.
(734) 99-MAGIC / 996-2442
Go to Contact Page