Your Young Wizards Will Love this Magic Workshop and
You'll be the Hero for Bringing it to Them!
"I am very impressed with how much my son learned in your class. I appreciate the fact that you not only gave materials and instructions for the illusions, but helped the kids practice enough that they really could do the tricks convincingly. There were several tricks for which I could not figure out how he did them! Impressive for an eight-year-old. He is very proud of the magic he can perform."

"My daughter really had a great time learning magic tricks. She has been having fun showing us her new skills. Thanks for making it fun for all ages."
"My children really enjoyed your class...They both certainly had a lot of fun, and have been enjoying showing off their newly acquired magic skills. They are planning to put on a magic show."

Dear Friend,

How do you squeeze 200 hours of research and 50+ years of professional experience into a fun-filled one-hour magic class?...

Where do you find all of those special props and materials that make up the neat and complete "Magic Packs" your young wizards will take home with them?...

Who's going to produce the clearly illustrated, well written instructions that will allow each student to review what they learned long after the class is over?...

The solution is simple...Just relax, and enjoy the credit for bringing the A2 Magic Workshop to your Library, Scout Meeting, After School Program or Children's Birthday Party!
As a full-time professional magician who presents over 400 high-energy, spellbinding programs of magic, fun and audience participation each year, I have had countless individuals and groups approach me with the very same question... Do you teach a magic class?

Realizing that to produce a high quality program would involve a great deal of time and commitment, I gave it some serious thought...
Fifteen years ago, I took up that challenge with a specific goal in mind. I wanted to create a workshop that would allow young people the opportunity to learn a variety of age-appropriate, easy-to-master illusions through hands-on, classroom-style, demonstration and instruction. I wanted to compile a large selection of rarely seen, unique magic tricks that would allow me to customize each workshop to fit the age range of each individual group. I also wanted to combine all of the necessary props and materials into a neat and complete package that each student could work with and then take home with them.
What I came up with is a program that is ideal for enthusiastic young audiences just like yours. The A2 Magic Workshop plays exceptionally well to elementary aged students (age 6 and up) or your teens and "tweens" crowd. It's a perfect activity for your Library Summer Reading Program, After School, or Winter and Spring Break events or a great addition to those Harry Potter or Magic theme parties.
Everyone loves magic! Record crowds at many of my summer reading programs and public shows are clear evidence of that. Imagine the fun your budding young wizards will have when some of these magic secrets are revealed and they are given the opportunity to practice and perform the tricks themselves.
In the A2 Magic Workshop, students will learn 5-6 simply amazing, yet amazingly simple magic tricks that they will be able to perform anywhere. They may learn some simple "sleight-of-hand," astonishing mind reading stunts, or some very cool, rarely seen tricks with common items like ropes, rubber bands, cards and money. Selection of material is always based on the age range and make-up of your specific audience.
The A2 Magic Workshop is a great way for kids to develop new skills, make new friends and build self confidence.
This one hour program is best suited for a class size of 30 kids or less and is a perfect choice for elementary audiences or your teens and "tweens" group. Best of all, all of the special props and clearly illustrated, easy-to-understand instructions are included in the great low price!
Don't miss this wonderful opportunity to treat your group to this richly rewarding experience that they will truly enjoy. Contact me today for additional information and available dates.
Schedule your workshop now - Go to "Contact" Page
or call me at the number below.

(734) 99-MAGIC / 996-2442
You'll get wonderful results like this too, when you book
the A2 Magic Workshop for your elementary or
teens and "tweens" group.
"We had a great time with Jeff. The kids stayed right with him and interested the whole time. He was funny and entertaining and kept an energetic pace. Learning some magic as opposed to just watching it, was a great alternative."
Ann Rapp, Librarian - Augusta Library
"Great workshop Jeff! Many excited young faces ready to show off their magic skills. High interest in our magic books following the program too. You are always great for us and we look forward to having you back again in the future."
Mark Buzzita, Library Assistant, Capitol Area District Library - Main
"This workshop was exciting for the kids as well as the parents accompanying them. The tricks were easy enough for the kids to practice and still provided a WOW factor when Jeff performed them. Thanks for making this a wonderful family experience!"
Debbie Anderson, Curator of Education, Midland Center for the Arts
"The Teen Workshop was VERY WELL DONE. Thanks!
Ron Fowler, Youth Services Supervisor - Petoskey Public Library
"Jeff did a great job tailoring his presentation to our audience. The kids were thrilled with the tricks they learned and the kits they got to take home."
Jean Bolley, Branch Head Librarian, - Foster Branch, Lansing, MI
"Jeff presented a well-organized program that engaged our teens. The smiles on their faces showed me they really enjoyed it and it was great they received supplies to take with them."
Julie Chrisinske, Library Director - Bentley Memorial Library, Perry, MI
"Great job keeping the students engaged! We have 70 new magicians at Plymouth."
Janet Greif, Principal - Plymouth Elementary School, Midland, MI
"Both groups of kids (elementary and teens) loved their class. They were all excited about doing tricks for their families and friends. It also generated a lot of interest in reading. They checked out a ton of magic books before leaving the library."
Holly Kirsten, Head of Youth Services, Chesterfield Twp. Library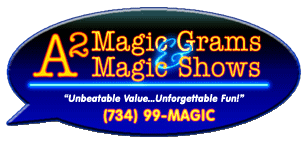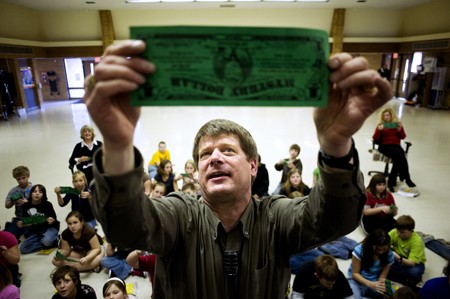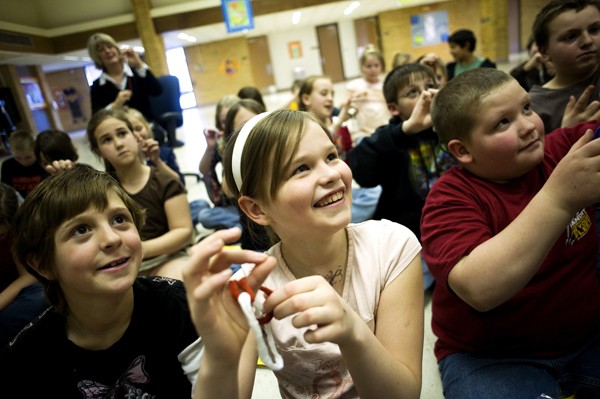 Jeff Wawrzaszek presents his A2 Magic Workshop
to over 800 4th grade students in 20 Midland area schools.
Photos from the Midland Daily News - Thursday, February 12, 2009

(734) 99-MAGIC / 996-2442


Home | Services & Prices | About A2 Magic | Kids Birthdays | Libraries & Schools | Cub Scout Banquets | A2 Magic Workshop | Reviews | Contact | FAQ | Party Tips | Free Magic Tricks

Did you take the A2 Magic Virtual Magic Workshop?Printable instructions are here.
Simply click on the link and print the 2 PDF pages to review and remember
all of the great tricks presented in the workshop.
A2 Magic Virtual Magic Workshop Instructions

© Copyright 2019 - A2 Magic