What applause looks like in print...
The people who use my services generally do a better job of promoting me than I do. A huge percentage of my performances are either repeat engagements or have been referred by people who have seen me perform. Here is a small sampling of over 1,200 similar types of letters and comments that I currently have on file from clients who have taken the time to write and say thanks. A2 Magic also has more 5-STAR ONLINE REVIEWS (Google, Yelp etc.) than any other Michigan magician.

"Jeff is the best! The Ann Arbor District Library hires him quite often, and he plays to a full house every time. The magic tricks are fantastic, but the best part is Jeff's interaction with the kids. Highly recommended for schools and libraries.
Ieva Bates, Branch Manager
Ann Arbor District Library


"Excellent performance - one of the best - students gave him a standing ovation."
North Jr. High, West Union, IA
"Excellent entertainment two years in a row. The hit of our Christmas party once again. Jeff's ability to baffle a room full of mechanical engineers was amazing. Good mix of non-offensive humor and truly astounding magic."
Ken Castel, Vice President
Automated Analysis Corporation
"There are "professionals" and then there are professionals. You truly are a professional. Your act delighted the Headliner Show audience and really pleased the MAGI-FEST staff. I would gladly recommend your act to anyone that is looking for top quality talent...I write personal notes to all our performers indicating how well their act went over at the 53rd annual MAGI-FEST. In a nut-shell, you were definitely the best !!! Many thanks. I hope we can work together again sometime."
Jep Hostetler, Executive Director
MAGI-FEST, Columbus, OH
"This was the second year in a row we were entertained by Jeff Wawrzaszek, and he was even better the second time around. Not only were the kids laughing...but so were the adults. What a wonderful magician! All of us loved the show."
Debbie Pickell, Cubmaster
Pack 623
"On behalf of myself and The Wolverine Civitan Club, I would like to sincerely thank you for your 'magical performance' at our meeting Wednesday. Without a doubt, it was one of, if not the most enjoyable meetings we have ever had in the history of our club. Our membership is still raving over your wonderful presentation."
J. Darrell Smith, Membership Co-Chairperson
Wolverine Civitan Club
"Super terrific - Teachers and many students remarked it was the best one yet. Students were with him all the way."
Van Buren Elementary School
Brazil, IN
"Employees informed me that we MUST have Jeff appear at our next picnic!!! Thanks for your efforts!"
Jerry Lindsay, Quality Director
Sidley Diamond Tool
"Your good humor and adaptability were greatly appreciated. We gave you an audience ranging in age from 2 to ???, and you enthralled them all. (Over 200 people attended, and nearly every one of them said "Thank You" before they left.) Your skill, audience rapport, professional poise and all-round likeableness have long made you one of my favorite performers. Thanks, Jeff. You really were a highlight of our library program this summer!"
Paula Schaffner, Youth Librarian
Saline District Library
"Your act was a real crowd pleaser, as was evident from your standing ovation. Your act helped to make the evening a great success."
Mike Yavorsky, Reviewer
International Brotherhood of Magicians
"Jeff is great. We have tried other magicians when he was not available and been disappointed. We will definitely use him again in the future!"
Jim McCullough, Asst. Vice President
Ann Arbor Commerce Bank
"Did a fantastic job! Friends and family reported finding the performance top notch. The working of tables prior to large group performance really made our guests feel attended to. Content of show - Excellent!"
Tom Morson
Private Party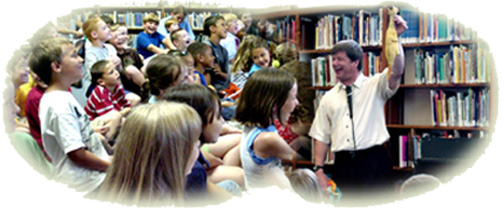 "Thanks for two great shows! It takes a special person to completely captivate a large audience with an age range from toddler to adult, and you did it twice in one day. Final comments from both kids and parents were all positive and ranged from "Great show!" to "This was the best magician you've ever had!"
We hired you only after hearing good things from other librarians in our area. You can be sure we will be giving you high ratings during our next Children's Librarians Meeting."
Sue Mihalic, Youth Services Librarian
St. Clair Shores Public Library
"Jeff, Great performance - we would like you again next year."
Don Canham, CEO
School Tech
"Jeff put on a great show! The residents and staff loved his 'walk-around' magic as well as his stand up show! I heard only rave reviews! Excellent show! Well worth the money. We look forward to having him return for future events. Thanks."
Judy Hein, Activities Director
Silver Maples of Chelsea
"Your performance for our customer dinner was absolutely terrific. I didn't realize that we'd hired not only a first-class magician but also a very funny comedian. Our customers had only rave kudos for your excellent performance and comfortable demeanor.
Jeff, we look forward to contracting your services again when we want a special evening's entertainment for our valued customers. Great evening."
L.A. Kelly, Communications Manager
ICI Polyurethanes, West Deptford, NJ
"Thank you - We've had many compliments (as always). We will be in touch for booking next year soon."
Jennifer L. Dale, Michigan Chapter Director
American Liver Foundation
"One of the best programs we have ever booked. Most assuredly we would recommend him for all levels K-12."
Madison St. School
Sauk City, WI
"Jeff Wawrzaszek drew our biggest crowd this fall, and they weren't disappointed! He was a great mix of humor and magic, and our audience was captivated. He kept the attention of our youngest preschoolers, and he didn't lose the older ones. Very few entertainers work well for all ages, but Jeff really did."
Laura Wright, Youth Librarian
Portage District Library
"Jeff had the complete attention of all the guests of all ages. His walk-around magic left the guests wanting more, and the children loved,loved, loved the balloon animals. Jeff had the audience amazed and kept them laughing with his great sense of humor. We could not have been more pleased. We have gotten compliments from basically all in attendance. Thank you so much for making our customer appreciation event a success."
Kari Morgan, Customer Services Representative
Green Stone Farm Credit Services, Alpena, MI
"The entire elementary thoroughly enjoyed Jeff's show. The students sat spellbound, and it was a very 'magical' addition to our Halloween celebration."
Dyana Kezelian, Head Teacher
Manoogian School, Southfield, MI
"Excellent show! The children and parents commented on what a fantastic show you presented and how much they enjoyed themselves...All three shows held just the right amount of magic, comedy and engaging the audience. The balloon pump and dotted cards had the kids screaming with laughter!...Thank you again for providing an energetic and creative program that captivated both children and adults! You were definitely a highlight for our summer reading program."
Aimee Strittmatter, Children's Services Supervisor
Public Library of Westland
"Exceeded Expectations! I have heard nothing but positive feedback! Jeff did a wonderful job providing entertainment to our employees and their families at our employee picnic. the price was great and the performance was even better! If you are looking for a great family oriented magic show, look no further! Jeff is your man!"
Brandon Taylor , marketing Specialist
Northland Area Federal Credit Union, Oscoda, MI
"I want to tell you that the magician you sent us, Mr. Jeff Wawrzaszek, turned out to be an exceptional magician, and a top notch entertainer, and a five-star addition to our hospitality suite at the UPMG Meeting.
Jeff's audiences varied from 1 person to 20, and he was able to work effectively amongst them, even with all of the usual distractions of a hospitality suite. Jeff's poise and enthusiasm enabled him to work effectively in the midst of distractions, and his magic feats truly did astound our visitors."
Howard G. Menzel, District Manager
The Ohio Brass Company
Additional References Available on Request:

(734) 99-MAGIC / 996-2442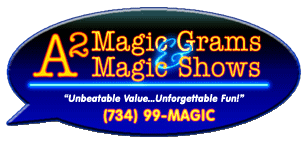 Home | Services & Prices | About A2 Magic | Kids Birthdays | Libraries & Schools | Cub Scout Banquets | A2 Magic Workshop | Reviews | Contact | FAQ | Party Tips | Free Magic Tricks

© Copyright 2019 - A2 Magic