The Stand-Up Magic Show- Skillful sleight-of-hand magic, laugh-a-minute audience participation, pantomime, music and imaginative "magic with a twist" make the stand-up magic show an excellent choice for your company party, picnic, banquet, church, school, library, lodge or social event.
Jeff Wawrzaszek's award-winning style, highly likeable personality and playful sense of humor have been honed and perfected over thousands of performances. It's a "two thumbs up" G (for Great) rated show that is perfectly suited and easily customized for adult, children's and family audiences.
The fun begins the moment Jeff sets foot on stage and never lets up until the music fades on the last routine. Whether it's in a plush theater, for an audience of a thousand, or in your living room, for a few special friends, Jeff Wawrzaszek's stand-up magic show is perfect for any event that deserves excellence in entertainment.
Any show length, up to 45 minutes, is available, and professional sound is always included whenever necessary.

"Jeff Wawrzaszek drew our biggest crowd this fall, and they weren't disappointed! He was a great mix of humor and magic, and our audience was captivated. He kept the attention of our youngest preschoolers, and he didn't lose the older ones. Very few entertainers work well for all ages, but Jeff really did."

Laura Wright, Youth Librarian, Portage District Library

"Just great! Everyone - kids and adults alike - were highly entertained. Jeff is extremely personable, professional and engaging. He puts on a great show."

Sarah T, Magic show for family holiday party, Ann Arbor

Close-Up / Walk-Around Magic - One rubber band slowly passes through another, over and over again, objects magically appear in a spectator's very own hands, minds are read, playing cards change places, change color, and are visibly turned inside out in some of the most amazing sleight-of-hand magic you may ever witness. Laughter, amazement and mind-boggling magic happen all at once as Jeff Wawrzaszek directly involves your guests in this purest form of prestidigitation...right under their noses, and wherever they are.

This is perfect entertainment for your Michigan banquet, open house, ice cream social, picnic, business promotion or wedding reception. It's intimate and informal entertainment with maximum appeal. Jeff will mingle with your guests, performing miniature illusions with common everyday items. As an informal ice breaker, or featured fun, this is magic they'll truly remember and talk about for years to come.

For family events, Jeff can also twist balloon animals at lightning speed and will gladly include them with his Walk-Around Magic, if that is your desire. For maximum impact, many groups book a combined package of Walk-Around Magic with The Stand-Up Magic Show for a truly memorable experience.
"I want to tell you that the magician you sent us, Mr. Jeff Wawrzaszek, turned out to be an exceptional magician, and a top-notch entertainer, and a five-star addition to our hospitality suite at the UPMG Meeting. Jeff's audiences varied from 1 person to 20, and he was able to work effectively amongst them, even with all of the usual distractions of a hospitality suite. Jeff's poise and enthusiasm enabled him to work effectively in the midst of distractions, and his magic feats truly did astound our visitors."

Howard G. Menzel, District Manager
The Ohio Brass Company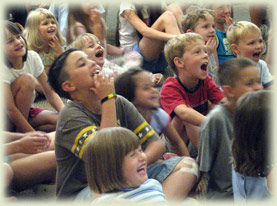 The Birthday Party Magic Show - Jeff Wawrzaszek knows the secret to making your child's birthday a truly special and memorable event. He presents his Birthday Party Magic Show at as many as 5-8 Michigan kids' birthday parties each weekend. Many of those shows are repeat engagements or referred by parents who have seen Jeff work.
Your child will have a starring role in one of Jeff's three available, laugh-packed shows. Some of the magic actually happens in their very own hands! All A2 Magic shows are age appropriate and loaded with kid-style comedy and amazing visual magic. Colorful balloon animals for each of the kids top off the performance. In addition, each child will receive a special souvenir "Mystery Dollar." These oversized dollar bills have lots of fun stuff on the front side and five simply amazing, yet amazingly simple, magic tricks on the back.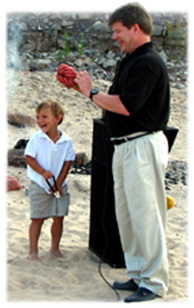 The birthday child is always presented with a personalized, keepsake birthday button and a very cool custom magic set for helping to make the magic happen. Your child's name is printed right on the special custom printed, die-cut box. How cool is that!
The Birthday Party Magic Show may be presented outside (weather permitting) or inside. Guests may sit as close as they'd like. So, even a small room or gathering space is perfectly suitable. This show plays best when the majority of the kids are age 4 and up. All shows are customized to fit the specific age range of your audience.
A very popular 45-minute performance which includes everything listed above, plus a mini-magic workshop (additional 10-minutes) is also available. Kids will learn 3 or 4 great magic tricks which they will be able to take home and perform for their families and friends.


Get complete details about this popular kids' birthday party magic show.
"We couldn't have been more pleased - Jeff was so wonderful and geared the show to the exact age of the audience. A week later, all the kids are still talking about how much fun it was. Great job! Thank you!"

Dianna Z. - Birthday Party Magic Show - Ann Arbor

"A terrific Birthday Magic Workshop! Jeff held the interest of a dozen kids and a dozen adults throughout. Everyone loved it, and the tricks were great and geared to the kids' ages! Everyone learned a lot. Fantastic! We've had him here four times!"

Kate L. - Birthday Party Magic Workshop - Ypsilanti

"What an outstanding performance! The kids had a blast! And the adults did too. I'm sure we will be talking about this for a lifetime! Thank you for the roaring party!"

Chrissy L. - Birthday Party Magic Show - Brighton

"We got so many compliments about Jeff's performance. Many, if not all, told us it was the best birthday party they ever attended for a child. Jeff was the major reason for our success. We will definitely recommend him and use him again in the future!"

Rob & Deb S. - Williamston

"Always a hit - thank you! Love the 10-minute workshop."

Angie C. - Ann Arbor Birthday Party with Magic Workshop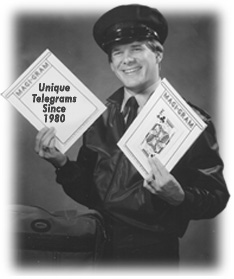 The Magic-Gram - Nothing else comes close to this very unique and novel telegram. Ideal entertainment for 30th, 40th and 50th Birthdays, and every other age as well. The perfect way to say Congratulations, Happy Anniversary, Good Luck, Get Well Soon or Thank You.
The Magic-Gram is a 15 or 25-minute presentation of solid laughs and awesome magic focused on that "someone special." Because it is non-embarrassing and non-offensive, it plays extremely well in public and private settings (restaurants, businesses, offices, homes, etc.). Suitable for all ages and groups of 2-50 people. A modified version is available for larger audiences.
Each Magic-Gram includes two customized routines, as described below:
A card is selected but cannot be found by the magician. Two blank panels are then produced. The guest of honor waves their hands over the panels, and their selected card, and other various items magically appear. After one final wave, your special message appears on one of the panels. It is read out loud and then presented to the honoree. This is a great way to customize the telegram to say exactly what you want to say.

A comical routine follows in which the magician tears random pieces from a large, folded sheet of wrapping paper. After several laughs and humorous bits of business, the paper is opened to reveal a surprise personalized message, such as: "Happy Birthday Dad." All of the letters are torn from the paper to create a unique souvenir banner.
In addition to these custom presentations, several other quick and interactive magical routines are included, making this a very solid 15 minutes of fresh, clean, highly entertaining fun for all to enjoy.
A 25-minute combination Magic-Gram and Magic Show is also available. Please call for more details.
"Jeff - Thank you - you were a HUGE hit! They were all very impressed by your talent and professionalism. You made my dad's day!"

Kristen W. Seattle, WA - 80th Birthday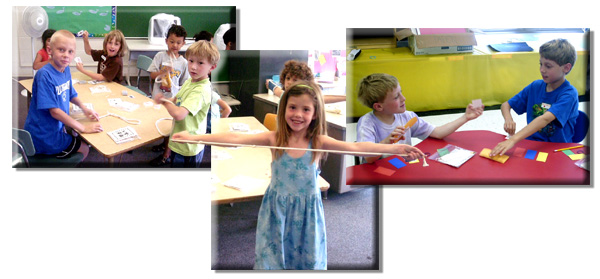 The Magic Workshop - They won't believe their eyes when the young, budding magicians in your group present the simply amazing, yet amazingly simple, magic tricks they'll learn in The Magic Workshop. Jeff Wawrzaszek brings 50 years of professional experience to the classroom, teaching your group a variety of amazing illusions that they can present anywhere. They'll learn some simple "sleight-of-hand," astonishing mind reading stunts, and some very cool, rarely seen, tricks with common items like ropes, rubber bands, cards and money.
Illustrated instructions and all props and materials are included. This class is great fun, and a terrific confidence builder for kids ages 6-12 years old. There's also a class perfectly suited for your teens and "tweens" crowd. Workshops can be customized to fill one hour, or multiple classes totaling up to six hours are available. Ideal for Libraries, After School Programs, Cub Scouts and Community Rec. and Ed. Programs throughout Michigan.
"Wonderful performance, great tricks, patient instruction. We all had a super time. Thank you!"

Leah Giordano, Librarian, Detroit Public Library - Jefferson Branch

"Jeff did a wonderful job and had both audiences totally engaged. Excellent performer."

Ilene Singer, Youth Librarian -Two Magic Workshops at the Ypsilanti District Library

"Wonderful workshop!! The students were spellbound. Thank you so much!"

Julie Brant - 4th Grade Teacher - Midland Academy Elementary School
Back to Top
Get complete details about the Magic Workshop.
Pricing
-
Value or Quality?...Why not get both!
When you book your event through A2 Magic, the quality is guaranteed, and the value is unmatched. You'll find that out when you call me. A2 Magic has more 5-STAR ONLINE REVIEWS (Google, Yelp etc.) than any other Michigan magician.
Because every event has its own special needs and criteria, "real value" comes in knowing that you're getting
exactly what you want, and what is perfectly suited for you.
When I have all the essential information about your event (location, time, date, size and type of audience, and any special requirements), I'll be able to offer suggestions and ideas of which type of entertainment will leave the greatest impression on your guests. Based on that information, you can make an informed decision that you'll be very happy and comfortable with.
"Jeff put on a great show! The residents and staff loved his 'walk-around' magic as well as his stand up show! I heard only rave reviews! Excellent show! Well worth the money. We look forward to having him return for future events. Thanks."

Judy Hein, Activities Director
Silver Maples of Chelsea
You'll be pleasantly surprised when you discover just how affordable these services really are. People tell me that on a regular basis after shopping around for clean, quality, professional entertainment. But you won't know for sure unless you pick up the phone and call me - Jeff Wawrzaszek - at:
(734) 99-MAGIC / 996-2442
or e-mail me at the "Contact" page